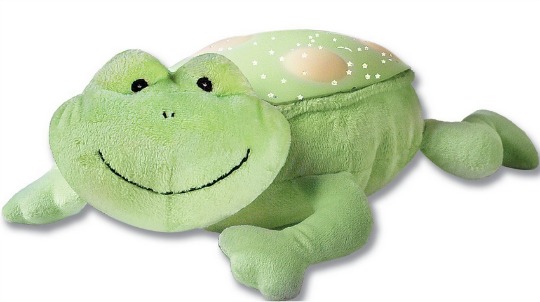 Two out of my three boys absolutely detest sleeping in darkness so they need a night light. My youngest has about ten different Cloud B toys but the Summer Infant Slumber Buddies toys are much cheaper and do the same thing really. The Frankie the Frog Slumber Buddy is just £12.49 at Amazon just now, including FREE Super Saver Delivery. It seems Amazon have price matched Argos as they have reduced this Frog Night Light to just £12.49. The very same Slumber Buddy would cost you £24.99 from Toys R Us.
The Summer Infant Slumber Buddies Frankie the Frog is a nice soft green colour and is suitable for a boy or a girl. It is suitable to buy for any age as you don't need to give it directly to the child. If your child is over three then you could put it in bed with them as a comfort, but I can't imagine the plastic bit being too comfortable to cuddle.
Basically the Slumber Buddy projects moons and stars onto your child's ceiling in three different colours and can play three lullabies, two nature sounds, a heartbeat. There's a 15 minute auto shut-off too which means the batteries aren't getting drained all night.
You can reserve and collect Frankie the Frog for FREE from your local Argos but if you want delivery it's £3 so you'd be better off buying it from Amazon in that case.