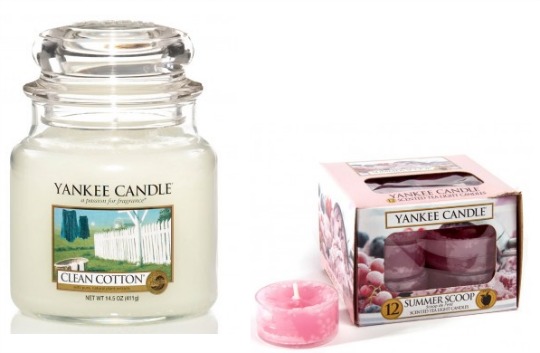 Yankee Candles are one of my pleasures in life, I know, I am sad but it's the truth. With a baby still in nappies, I don't want my house sticking of poop, so I like to light a Yankee, normally Pink Sands or Clean Cotton. They do the trick, the smell lasts beyond the time it's lit too. I am guessing I don't need to tell you how good they are, chances are you know yourself. Want £5 off when you spend £15 on them? Head over to Clintons Cards and use promo code SAVE5JW at the checkout to receive your discount. It works on anything not just Yankees.
Clean Cotton is one of Yankee Candles bestsellers, how do I know that? I watch QVC when Yankee Candles are on, yes sad again! Clean Cotton is currently Clintons Cards Fragrance of the Month, which means it's got 25% off. Buy any Clean Cotton item and not only will you be saving 25% off but you could get another discount of £5 if you spend £15.
For example: Buy the Clean Cotton Medium Jar* for £12.74 plus the Yankee Candle Clean Cotton Pk of 3 Car Fresheners* for £3.19. Use the promo code and get £5 off making your order total just £10.93.
Delivery is £3.49 which is a bit of a bummer but still works out a good deal.