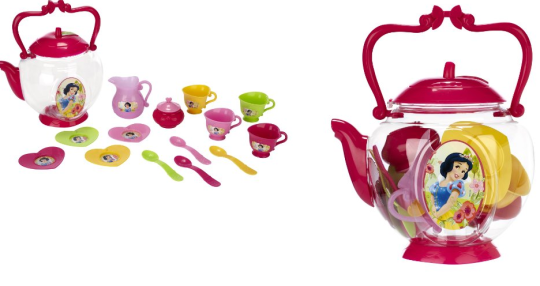 Reduced from £14.99 to £4.99, add on the £1.01 delivery and this will set you back £6 in total delivered.
Click here to make tea with Snow White*
This is the kind of tea set I love, where the pot actually acts as storage for all the other items, saves looking for that missing cup or saucer, well in theory anyway. This cute set has 4 tea cups with handles, 4 plates, 4 spoons, sugar bowl, creamer pitcher, and a matching tea pot. All featuring the original Disney Princess that is Snow White.
It has two reviews on Amazon, both 5 star with one reviewer commenting:-
My granddaughter loved the Disney Princess Tea Pot.
She puts her teddy bear at her Disney table and then they have tea together.
So Cute.
I do like the detail on this, the heart shaped plates and lid on the sugar bowl, it is plastic and while wooden sets may be more popular, they tend to be a lot more expensive and they're not Snow White!
Thanks to Mrs Fy on HUKD!