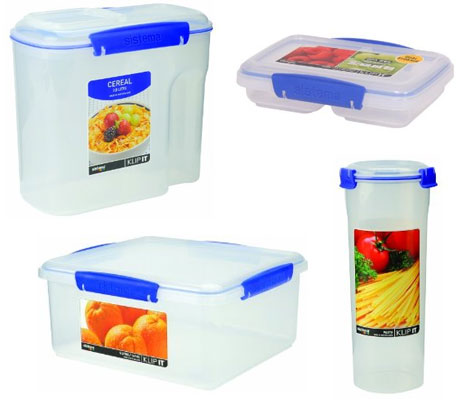 You know you've reached a certain stage, and age, in your life when you get excited about kitchen storage products.
We were all rather excited, in the PlayPennies office, when we sent off the range of Sistema plastic storage items that had landed on the 'for review' desk to Tanya to review on our behalf; could they be the holy grail of kitchen storage solutions, because they certainly look good.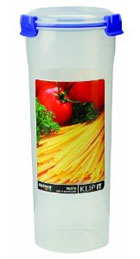 "It is hard to get excited by plastic storage in print but somehow, when these products arrived, they had me drooling," confessed Tanya.
She's reached that certain stage, and age, I was talking about earlier and freely admitted that her kitchen is in desperate need of storage.
"All of our plastic storage items always seem to disappear. They are like teaspoons! I'm sure they're abducted by aliens who are out of basic kitchen utensils who steal yours just when you need them the most!"
This seems to be a universal phenomena - just yesterday my teenage daughter was hunting for a little plastic lunchbox type thing to take salad to school in, I KNOW I bought several little boxes a while ago but could we find any of them?  No!
We sent Tanya four Sistema items to play with:
We've sent Tanya various products for review before and she's always been ruthless in her testing of them; the Sistema items were no exception.
"I dropped them all; I asked my tot to stand on them and even tossed them down the stairs," Tanya revealed. "They all survived my tough love sessions easily and didn't even come away with a scratch."

"The lids still clipped on perfectly and they are now invaluable tools for my home." Tanya went on to tell us that she's not sure how she's lived without them up until now.
Actually that's a lie – she told us that she struggled with, and was frustrated by, inferior plastic storage things before.
"The last set of storage I bought always gave me problems when I tried to close the plastic lids," Tanya told us, "They wouldn't clip properly or fit on top neatly and there was always a few minutes of cursing , sweating and shoving until they did as they were told."
All of us here in the PlayPennies office have felt that pain and got fat too excited when Tanya went on to tell us that the Sistema storage was the best she'd ever used.
The main lids clip on with blue clips which are on the body of the container rather than on the lid and, Tanya reliably informs us, they snap upwards with a satisfying click!

"I immediately poured all my muesli packets into the Sistema cereal container because those daft packets always seem to leak muesli no matter how careful you are," Tanya explained, "and after much frenzied shaking (over a bin bag to prevent hellish tidying up if it failed) not a single muesli flake had escaped!"
The top of the cereal container also has another lid for pouring which presses shut and is, apparently, very secure.
Tanya used to the other medium sized boxes to store washed lettuce – which, due to the perfect seal, showed no signs of browning  until day 3) and cooked food. She reported that there were no yucky fridge smells at all as the seals were solid and tight.
"The little split container has two different compartments and is very flat so will fit neatly into all kids lunchboxes. It seals well too," Tanya continued, "It's ideal for storing raisins or olives or whatever other healthy nibbles you sneak into their boxes in the desperate hope that they will actually eat them."
And finally…

To say that Tanya raved about the Sistema plastic kitchen storage things we sent her, would be an understatement.
"I love these things!" Tanya enthused, "I give the functionality and reliability a resounding 10 out of 10."
Tanya also felt the prices were very reasonable and was extremely happy that they are all BPA and lead free.
They are also freezer, dishwasher and microwave safe; the boxes are all stackable which will save you even more space and makes them very stable.
All in all, we think it's safe to say that you won't go far wrong with anything from the Sistema range.