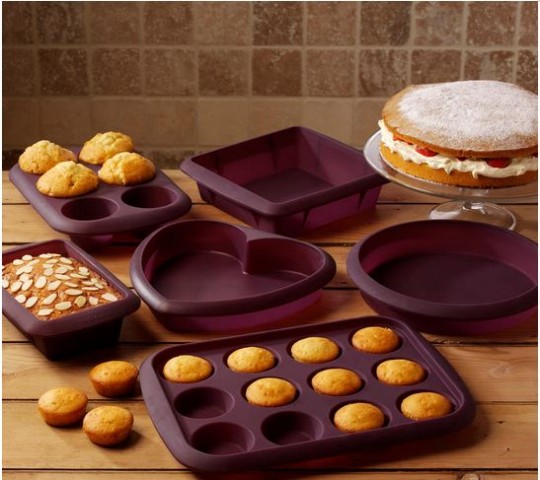 ProCook has a silicone bakeware set on sale at £35. The high street price, according to their site is £88, which makes this a fabulous £53 saving. Postage is an additional £4.95 although over £65 qualifies for free delivery. 
I have a love hate relationship with Silicone. Clearly I missed the class on how to use it because I have as many bad results and broken cakes as good ones. The good ones are awesome, but the rest can be tricky! Others seem to love it though, including the reviews on the site. Maybe my problem is that my silicone is all cheap stuff!
This silicone bakeware set comes with a loaf pan, a 20cm round cake pan, a square cake pan, a heart cake pan, a 12 cup bun tray and a 6 cup muffin tray.
They are obviously all made from silicone, which offers about the ultimate in non-stick, easy release baking.
They are all dishwasher, freezer, microwave and oven safe to 260C.
Perfect for making Christmas goodies, with plenty of time to practice.