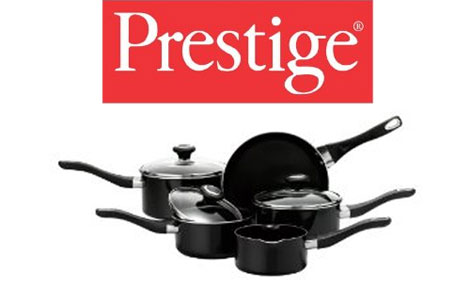 There's no denying it, decent pots and pans are expensive so when a deal comes up it's always worth taking a look.
Amazon are currently selling this Prestige Aluminuim 5-piece pan set for £40 instead of £114.99.
I wrote about pans a little while ago - my kitchen in South Africa is woefully lacking in the pots and pans department; after telling you about pans I beetled off to have a look for some new ones with the intention of buying some.
I came home panless but with a new plan - I'll buy new pans here, when I find a good deal, and take them back with me in January; these Prestige pans are likely to be the ones destined to live in the Southern Hemisphere.
They are made from 2mm guage aluminium, have the Prestige logo stamped on the base, non-stick coatings and some have glass lids.
The pan sizes are as follows:
1 x 14cm aluminium milkpan
1 x 16cm aluminium saucepan
1 x 18cm aluminium saucepan
1 x 20cm aluminium saucepan
1 x 24cm aluminum frypan
I wish these were an Amazon Deal of the Week, but they're not so the price is subject to the usual Amazon jiggery-pokery as and when they feel like it.
Happy cooking!