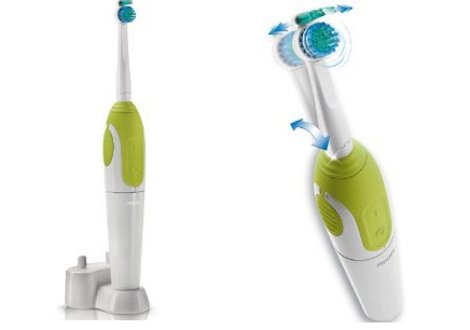 The Philips SensiFlex Electric Toothbrush is £10.97 at Amazon at the moment, a 63% saving on the original £30.
Since I started using an electric toothbrush, I have become a convert. I am forever recommending it to people now, and honestly, my mouth has never felt so clean before! And I don't even sell them or have shares in anyone's company. I just think they're the best thing ever.
And at 63% off, I think this Philips SensiFlex is a great bargain if you want to try one out for yourself.  This toothbrush has a dual cleaning action brush, which sounds pretty impressive, and apparently it has an 'active tip' which targets hard – to – reach plaque (don't you just love toothbrush jargon!) It also brushes at 15,000 strokes a minute.
It also comes with a standard two-pin plug for use in bathroom plugs worldwide, but for normal three pin plugs, you'd need a converter, which isn't included (but doesn't cost much either.)
It lasts for about 25 minutes, which is a good 10 or so brushes, and charges fully again in sixteen hours.
Included is the charger base, which has two built in brush head storage pins for your extras.  There are quite a few really good reviews for this product too.