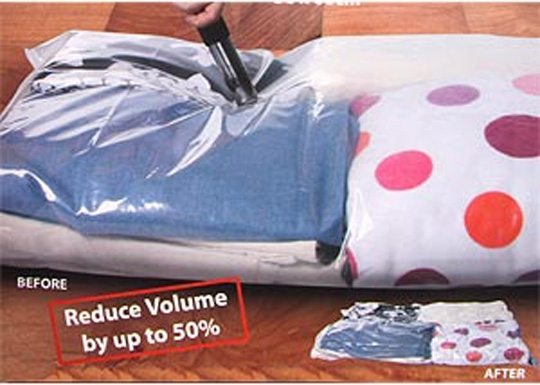 Home Bargains are selling two-packs of vacuum storage bags for a mere £1.99.
Vacuum storage bags, of any size, should be close to the top of the 'best inventions in the whole wide world, EVER!' list, as far as I'm concerned. If you don't have any, and you have things you need to pack or store, then you really should invest in some - once you've vacuum packed you'll never look back.
One of the bags in this two-pack of vacuum bags is the perfect size for travelling with, and the other is intended for under-bed storage. They reduce in volume by 50% when they've had all the air vacuumed out of them and they'll not only save you space, but will protect your clothes, blankets, etc from dirt, dust and everything else that can plague fabric and textiles that have been packed away.
The usual Home Bargains delivery or collection blurb applies - free if you pick them up in-store, or a few additional pounds if you can't be bothered to trek into town or don't live close to a Home Bargains.
Thanks to chesterdrawers at HUKD