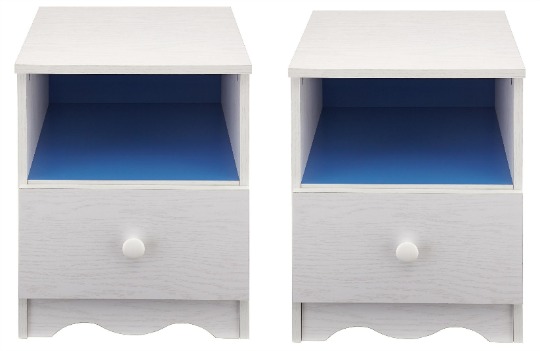 My eldest is nine in just less than two weeks, and what has he asked for? Bedside Cabinets! Whilst looking for something for his room I found this absolute bargain. The Nicki One-Drawer Bedside Cabinet was £69 (was it really though?) and is now only £17. What a heck of a saving...£52 off in the Very sale!
Furniture is rarely this cheap. I don't think anyone is expecting solid oak for this price, do you? It'll more than likely be MDF but who cares at this price? If it turns up and it's wood then I will be surprised and pleased.
You get a choice of two colours, blue and pink. It's mainly white in colour but with a flash of colour on the inside of the shelf. It features one drawer which is great for keeping glasses in or whatever little boys and girls like to hide in drawers. The shelf looks like it could accommodate a few books for night-time reading.
It's half a metre tall, so it'll sit nicely against a little ones bed. It could easily fit into a nursery as well as a bedroom as it's not too grown up looking.
Delivery is just £3.95 or you can collect it for FREE using the Collect+ service.