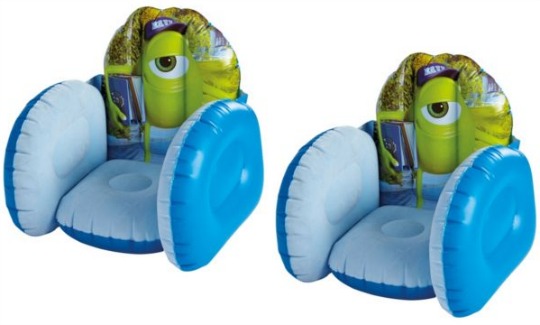 If you are looking for a fun, child friendly piece of bedroom furniture, then check out this bouncy seat. The Monsters University inflatable chair from Argos is only £2.99 just now. It was £9.99, then £3.49 and now at the bargain sub £3 price.
The Monsters University inflatable chair is suitable for children from the age of two and above. It features that one eyed lovely monster Mike. It comes with a repair patch so you need not worry about punctures.  Lord knows how long or how much puff is required to inflate the thing but one things for sure is that the kids will enjoy perching their tiny butts on it.
I am tempted to grab a couple at this price for my kids to sit on whilst they play on the Xbox. They always moan about having to sit on the floor, and at this price they would be fine to buy for this reason alone.
I know Argos stock levels can be a bit hit or miss but I promise you there's plenty of these.
You can collect the Monsters University Inflatable chair from your local Argos store or pay £3.95 for delivery.