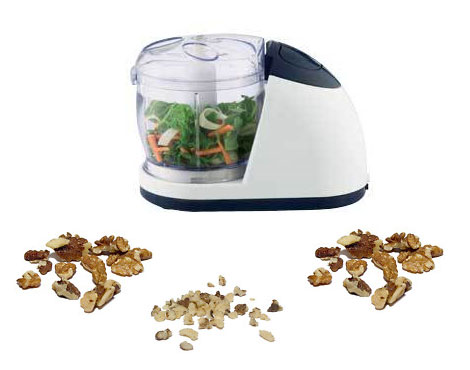 The Argos Ebay Outlet are selling this mini food chopper for £3.99 instead of £11.98.
This sort of mini food chopper is GREAT if you only want to blitz small quantities of things.
I used something very similar to this when all of my children were going through the weaning stage; jars of baby food just looked, and tasted, so unappealing.
Sometimes a recipe calls for ground something of this or chopped something of that, if you used a normal sized food processor then it would either not sit above the blades at all or get completely lost out to the sides of the mixing bowl - this is where the mini food chopper also comes in very handy.
This mini food chopper is brand new and comes with a 12 month Argos warranty; it has a 0.45 litre container, a 0.3 litre working capacity along with a safety lock-in lid and a pulse button function.
For those technical bods out there, I can tell you it has a 70 watt motor which will cope quite happily with small quantities of dry and wet foods.
It'll cost 99 pence to have your mini food chopper delivered and will take, on average, a couple of days to arrive.
Thanks to Sliwka at HUKD