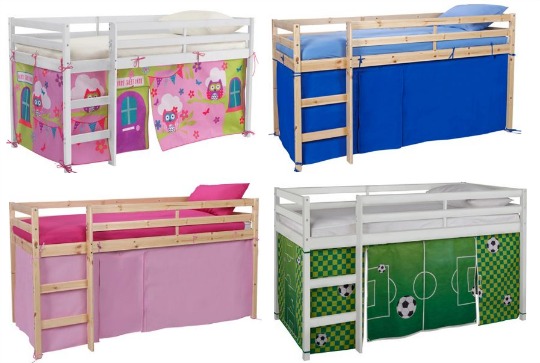 If you are looking for a new bed for the kids then this is a brilliant value offer from Homebase. You can get a Mid Sleeper Bed Frame PLUS a mattress PLUS a tent for £179.59. That's an amazing offer!
This package was previously selling for £449.95, and although that seems a little overpriced, it came down to half price at £224.99 which is really good value, and then until Wednesday 29th Homebase has an extra 20% off all indoor furniture, bringing the price all the way down to £179.59. There is a delivery charge of £8.95 to add on top, but that's still a mega bargain.
The Kendall Mid Sleeper Bed comes in a choice of white or pine finishes and is made of solid wood. The mattress supplied is the Bibbi Sprung Mattress, and there are four choices of tent as well. You can choose from an Owl Tent, Football Tent or plain blue or pink one, and they can be teamed with either the white or pine frame.
My son has this bed, and we bought it for him a year ago from Argos for nearer £250 with the mattress and tent. It's a really sturdy bed, and still looks as good as new, which is pretty good going considering the bashing it gets from a (nearly) 6 year old boy. We bought it for the storage space underneath, and you can fit masses under there, with the handy tent covering everything. He has half with toy storage, and the other half as a den, though recently his little brother has hijacked that bit. For less than £180 I think this is a really great offer.
If you are considering a mid sleeper and already have a single mattress, then the bed frame and tent package is £123.99 with that extra 20% off until next Wednesday.