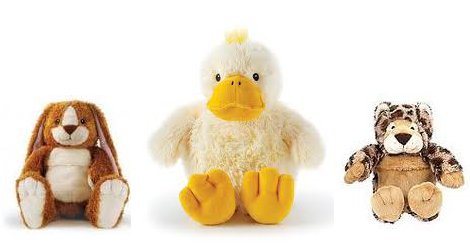 I love Hot Hugs Microwaveable Teddies and yes I know summer's coming, but you really can't beat cuddling up to something warm any time of the year.
Hot Hug Lamb - he was £22 but is now a rather tasty £5.94...hmmm, perhaps I shouldn't use the word 'tasty' and 'lamb' together in the same sentence.   He's very cute and cuddly and feel free to adopt the name 'Smelly Lambkins' as his tummy is infused with lavendar and he smells rather lovely.
If you don't fancy a Smelly Lambkins (that's the name of my youngest's hot hugs Lamb by the way) then there are other characters to choose from:
A Hot Hugs Duck - he also costs £5.94 instead of £22 - or perhaps a little Hot Hugs Bunny for the same price?
I'm off to see lions and other big cats today, so I'd have to choose this lovely Hot Hugs Leopard as they are possibly my most favourite of the African big cats - he's cheaper than all the others at £4.32; marvellous.
Now, before you rush to the comments section and tell me I've got the prices wrong, I haven't.  The published prices on the Debenhams website don't take into account the 10% discount code I have for you.
Enter PV79 at the checkout and you'll get 10% off (the prices I've quoted for you) and if you'd like free home delivery then enter SHD1 as well.
Thanks to missgem at HUKD