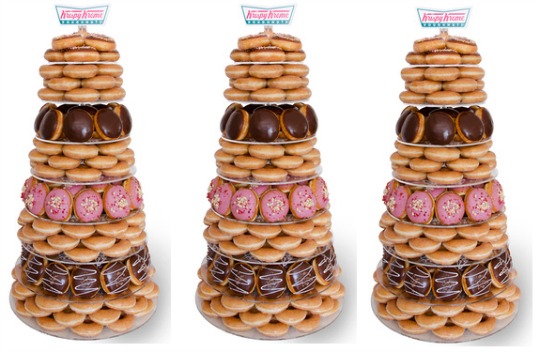 To some people, the thought of having Krispy Kreme Doughnuts at their wedding would seem a touch tacky but to others it seems like the heavenly thing to do. I LOVE Krispy Kremes but is it enough to have them at my wedding. Well, the answer to that is maybe. Since Lisa showed me this, I thought bingo, that's something for having after the Wedding BBQ we are having.
So, they might not be for those with a formal wedding but they are sure a bit of fun. You can choose between an Original Tower for just £325 or the Assorted Tower for £345.
The Original Tower contains 204 Original Glazed Krispy Kreme Doughnuts and the Assorted Tower has 216 gooey, sticky, yummy speciality Krispy Kreme Doughtnuts.
If you are too tame to have a tower of these sugary delights then why not choose to have Krispy Kreme favours for your guests instead. They come individually boxed and start at £1.70 a piece. There's a choice between Original Glazed or different speciality ones.
You don't have to have these for a wedding. Think of a birthday party that is coming up, like a 40th or a wedding anniversary.