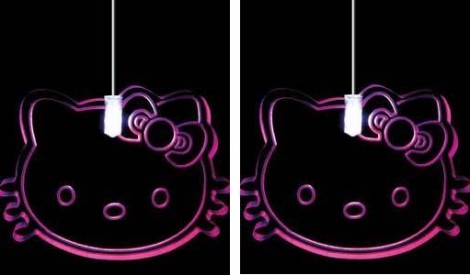 I love the Argos eBay clearance shop. You can pick up some amazing bargains there. This one would make a great decoration for a girl's room. It is a pink Hello Kitty LED mobile light, priced at £3.39. Delivery costs 99p.
I'm not a girly sort of girl, and I definitely wasn't into pink at all as a teenager. But for some reason, I've always had a soft spot for Hello Kitty. I remember when I was nine getting a Hello Kitty pencil case, which contained pencils, an eraser and ruler all with the Hello Kitty image on it. I love that pencil case to bits!
I'm sorry that the image isn't better for this light. For some reason they've shot it on a black background, and it is hard to pick out. There's not much information on the site, so I'm not sure how large it is. Can only go by comparison to the size of the lightbulb in the picture.
According to the blurb on the site, it is a pink acrylic mobile light in the shape of Hello Kitty. It takes 3 AAA batteries, and these are not included.
Thanks to lucerysmum at HUKD!