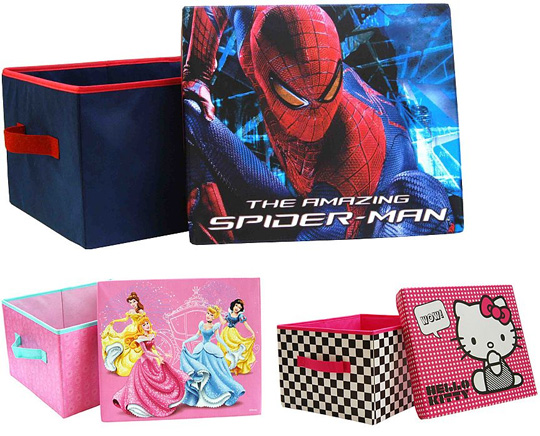 If you're after some storage boxes which feature your child's favourite character then you're in luck - as long as their favourite characters are either Hello Kitty, Disney Princess or Spiderman!
Storage - it's a universal truth that there's never enough of it.  If you don't have any, you need to buy some; when you've bought some, you'll always need some more!  And it doesn't seem to matter whether or not you regularly de-clutter and reduce, you will never have enough storage.
This is especially true of children's bedrooms and playrooms and why these sort of storage boxes are great - they only cost £5 each and the general consensus of existing owner opinion is that they are good and sturdy.
Some people have commented that the boxes received have had different pictures on them than those featured on the website, and some say they were smaller than expected whilst others say they were larger - there are no dimensions for the boxes on Asda's site so you'll just have to wait and see whether you fall into the 'larger' or 'smaller' category.
You can arrange to collect your storage boxes from your nearest Asda store or, if you really don't have one anywhere near you, pay an additional £2.95 for delivery.
Thanks to hsg at HUKD