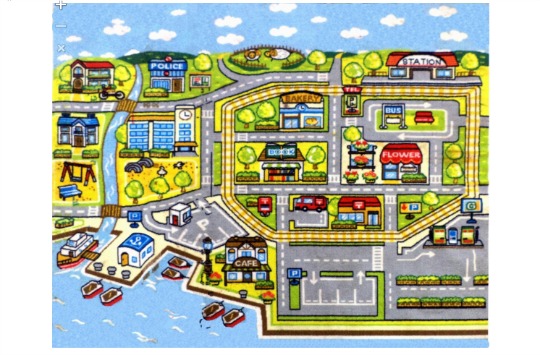 If you have a little one who loves playing with toy vehicles then this rug is a great idea. It's reduced from £12 down to just £7 at George Home from Asda.
I think this was good value at the full price to be honest, as it's going to be much more hard-wearing than a plastic 'playmat' style road. It's a large 80cm x 120cm so there's plenty of room for kids to whizz their cars, trucks and everything else around the roads. My youngest is mad on cars, but he loves trains more, so the fact that this has a train track and a station too will make him very happy indeed! There's even a harbour for toy boats, and the planes can soar through the clouds on the rug as well - what more could you need?
We did have a similar one of these from Ikea for my eldest, but apart from the fact that I have no idea where it's got to, it was also less detailed and more expensive than this one, so I think I'm going to be grabbing one of these myself later for my toddler.
I think this is seriously good value, and although there are lots in stock at the moment I don't expect that to last long! Delivery is from £2.95, or you can use the free Click and Collect service as well.