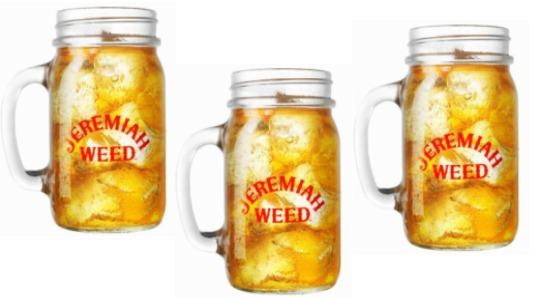 Remember when you had a social life, and used to go out to drink beer or cocktails out of fish bowls or jam jars? Recreate that in your own home, get TWELVE Jeremiah Weed Jam Jars for just £4 including delivery from Bar Supermarket. Use the link below and you will see that a twelve pack costs £0.00, add it to your basket and you will be charged only £4 for delivery. Be quick though, these will fly off of the shelves.
These are just fabulous for when you have people over for drinks. Use them to drink a short beer out of or make some fruity, fresh cocktail in one.
Think how nice it''ll be to pull these out at a barbecue or party. You can even use them for the kid's milkshakes if you can over the fact that they are advertising alcohol.
Here's what Bar Supermarket has to say about these JW Glasses:
These fantastically unique designed glasses are both strong and eye catching and are a great way of encouraging customers to try these distinctive products. Made from glass throughout, the solid handle and Jam Jar style lip give these glasses their individual style, whilst the brand name 'Jeremiah Weed' appears printed in red on the side – where it will stay despite many washes.
Thanks to shazzersere @ HUKD