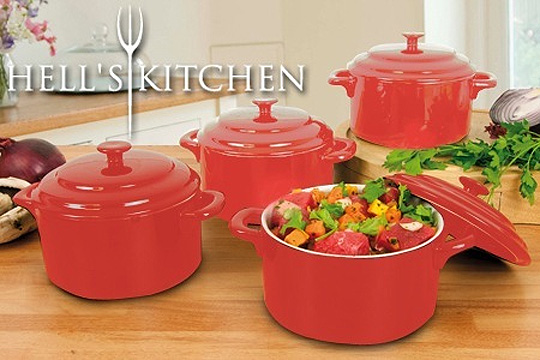 I really like the look of these four individual Hell's Kitchen casserole pots, I rather like the idea of only paying £19, instead of £50, for them too.
I'm really in the mood for a scrummy warm winter casserole or stew now! There are few dinners more comforting, to make and eat, than a good stew with dumplings - especially when it's freezing cold and foggy outside, like it is (for me, at least) today.
These little Hell's Kitchen casserole pots measure 12cm across (16cm if you include the handles) and just 6cm high, without the lid;  they're a much more fun, and interesting, way to serve scrummy stews, than in a bog-standard bowl I think.
You've got until 11.59pm tonight to buy your Groupon voucher and then until 26 December to place your order with James Russell (I've bought things from them before and their service is always exemplary).
Delivery costs are an additional £3.95 and you're asked to allow seven working days for delivery, so - if you want them in time for Christmas Day then really should order them as soon as soon as you can redeem your voucher, there are only nine working days left and that includes Christmas Eve!
Happy individual casseroling!