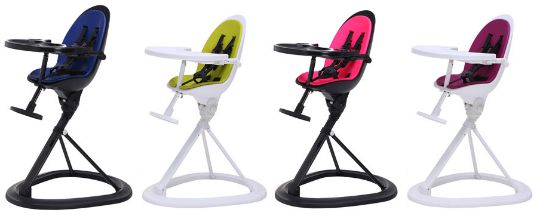 The Ickle Bubba Orb Highchair is on a 'Hot Buy' special offer at Costco, and although the RRP is a huge £139, they have it for sale at £79.89, and that is with free delivery included as well. I can't find this highchair any cheaper than around £100, so Costco are beating the competition by a clear £20!
The Ickle Bubba Orb highchair has been a constant feature on the best buys lists since it was launched, and with it's unique design, tilt back chair and 360 swivel it's not hard to see why. Costco are selling this in a total of 7 different colour combinations as well, so you can pick and choose one to match your colour scheme and preference! Here's what you can expect:
Easy access 360 degree seat rotation
5 point safety harness with shoulder straps
Memory foam seat insert
Tilt back mode, providing back support from birth to 6 months
Tilt back mode also recommended for sleepy babies
2 piece fold making it compact and easy to store away or transport
Adjustable height position and footrest
Removable food tray that can also be adjusted in 3 different positions
Smooth hygienic finish, making it easy to wipe down and keep clean
Material: Plastic, aluminium, memory foam
Dimensions: 46cm W x 73cm D x 103-107cm H
Maximum child weight: 17kg (approx 3 years)
Minimum age of child: Suitable from birth
The 'suitable from birth' bit is very surprising to me, as I was expecting this to be suitable from when baby can sit up unaided as with most other high chairs, but with the memory foam and the tilt back mode younger babies can be supported. If you have a child who moves on to solids before they are able to sit up in a high chair then this might be ideal for feeding them.
By the way I really don't like the name 'Ickle Bubba', but that's just my opinion. ;)