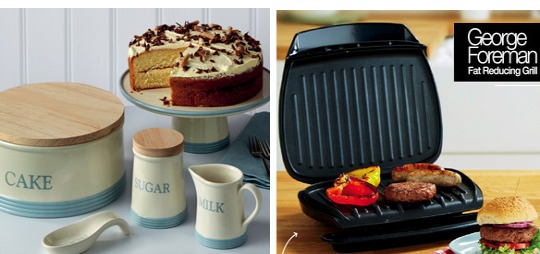 If you've started the spring cleaning and are chucking out old and broken stuff like you have a skip to fill instead of a wheelie bin, then how about sprucing up your kitchen with the Special Buys at Aldi starting on Sunday 11th January.
There are quite a few kitchen appliances at great prices like a George Foreman Grill for £19.99. a Halogen Oven for £24.99, a 4 Slice Toaster for £19.99, as well as bargain prices on food processors, kettles, smoothie makers, pressure cookers and so on.
There are also offers on saucepans, crockery, storage canisters and loads more kitchen essentials, with prices starting at just 79p!
Here's a list, so you can see what you need before rushing to the store on Sunday morning:
There are a few more things like kitchen taps, storage tubs, floor mats and dental items too, and they can all be found here on the Aldi Special Buys website.
Remember that these offers are in store only, and availability will vary from store to store. Stock is limited, so if there's something you like then best get there early if you can.
I might have to try to persuade hubby to replace the old toaster and kettle as these look so much nicer. :)