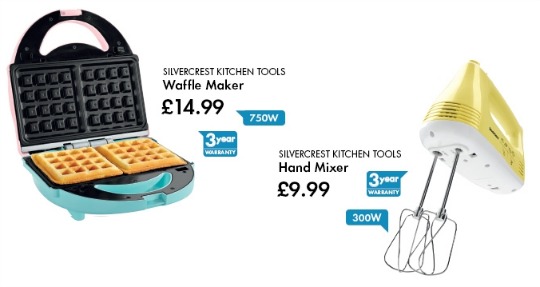 If you enjoy cooking up a storm, or love a bit of home baking then you'll like the special offers at Lidl next week. From next Thursday 12th March they have kitchen and baking items in at very good prices, and it's well worth a visit.
I've always wanted to get a Hand Mixer*to save time with my old battered hand whisk, and seeing as Lidl will be selling them for £9.99 now might be the time to get one. (I might ask for one for Mother's Day!) The Waffle Maker* looks pretty great for £14.99 as well.
They will also be selling muffin trays, silicone baking moulds, cake storage boxes, spring form cake tins, roasting dishes, cake decorating kits and all sorts of other kitchen and baking utensils, and all at the usual low Lidl prices.
The offers will be in stores from Thursday 12th March, and as always will be subject to local availability. You can find all the details on the link above.