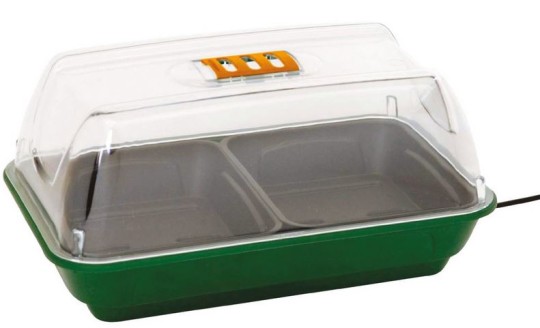 We are in the right time of the year now to get planting if you're hoping to grow your own this year, and I have to say that 3rd year running, I finally feel a bit positive about our growing chances this year. Assuming the rain and the flooding ever let up, and give our swamp garden a chance to drain.
In the meantime, we've been using a heated propagator to get our seedlings going and give them a jump start on the better weather. Last year my little tomatoes took such a long time actually get going, that they were all still green on the vine by the time it got too cold and they all started dying. I don't want that to happen again, and if the predictions of food prices rising due to all the rain, then having even staples like courgettes, carrots and potatoes on hand will help pinch the pennies a little.
The Sankey Heated Propagator Growarm 100 is a single tray with lid, with two seed trays, making it possible to have two different types of seeds growing at the same time. Now, I currently have three types of herbs in one of the trays, just planted yesterday, so we'll see if that affects it in the negative at all. I hope not.
The propagator has an 8wat heated base, and a water control mat, as well as a temperature and humidity controlling slide-open thingy.  It takes up very little space, in the greater scheme of things, and if you're planning on getting started now, perhaps start with things that can still handle the cold.
Oh, and it's currently on sale at Amazon, but I saw them in Aldi recently for less, if you are able to pop in to one soon.