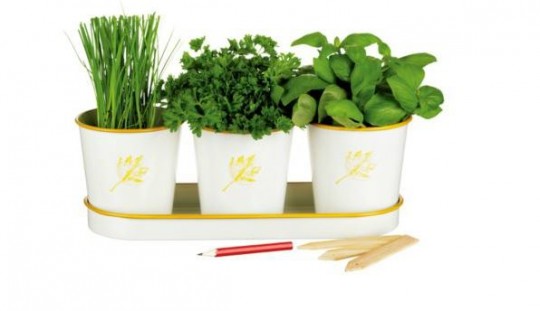 While the Grow Your Own Herbs set would have been an ideal small gift for Christmas, in the sale it is still a lovely find for any up coming birthday or 'just because' gifts. I actually received a herb kit as one of my Christmas gifts and I'm so excited to get growing in a few weeks' time.  This kit from Boots is half price at £7.50 and will get you or the recipient off to a great start.
The three painted pots in this Grow Your Own Herbs set have everything required to get started, including six compressed compost pellets, plant markers with pencil for labelling, and packets of Chive, Parsley and Basil seeds. There is even a tray to keep it all on to protect your windowsill too.
With the way the weather is at the moment - let's face it, it's just too warm for January - it's hard to know what's going to grow, survive or make it to edible this year, it's probably not a bad idea to start an indoor stash, and store it away while we can!