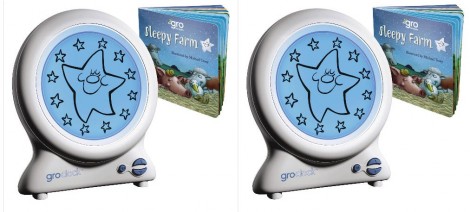 I've heard lots of parents rave about the Groclock. But it has always seemed a little bit pricey. At Tesco Direct this is £17.95 but using the promotional code TD-HGNM, you can bring the price down to £13.46. Delivery is free if you can collect at a store. But do check this first. Not all stores do a collection service.
This is the best discount I've seen for this Groclock since I started looking a couple of months ago. Even when these do get discounted, it never seems to be by much.  And if it doesn't work for your child - well it seems a tad pricey to experiment with.
This Gro-clock uses images of the stars and sun to communicate to children when they should go back to sleep and when it's time to get up.
Stars go out one-by-one during the night to show the passing of time. The option to set two separate wake-up times (weekday/weekend or night-time/day-time nap) is also included.
Due to popular request, this updated version of the Gro-Clock has a feature allowing parents to choose whether or not to display the digital clock during the usual 'stars to sun' countdown. This setting allows older children the chance to learn digital time.
The Gro-clock also comes with an illustrated book - the sleepy farm story.
Other features include adjustable screen brightness, a silent operation or an audible alarm feature. The GroClock is suitable for children aged 2 years and upwards.
Thanks to guppymh at HUKD!