Free Ice Age 3 Watch, Clock and Tin @ SeeFilmFirst (Pay P&P)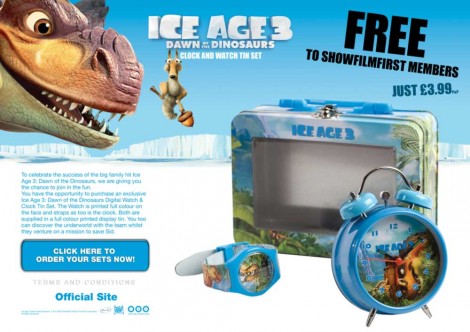 A super little deal for young Ice Age fans!
All of the main Ice Age characters are endearing aren't they, but I've not met any one (yet) who doesn't have a real soft spot for Scrat the Sabre-Toothed Squirrel Rat and his frustrating quest for that acorn.
This deal is a smashing one I think - for just the cost of the postage, which is just £3.99, you get an Ice Age 3 watch with a strap that's fully printed with all your favourite characters and a bedside alarm clock, which is made of metal (not a cheap plastic version).
They come in a metal tin that's got a handle and window in the lid so you can see what's inside. This can be used for all sorts of things once you've taken the watch and clock out - you could store Top Trump cards in it, little matchbox cars or even use it as a lunch box tin for sandwiches!
All you have to do to secure your Ice Age watch, clock and tin set is fill in your details, pay the P&P and it'll be winging it's way to you pronto.
Thanks to babimama09 over at HUKD!