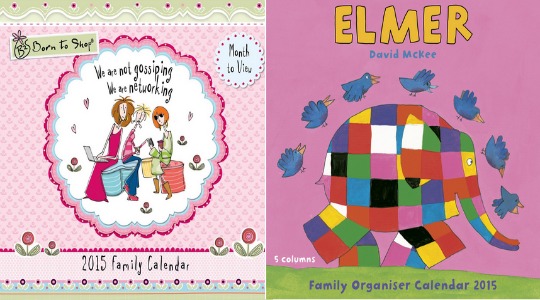 Everyone needs organisation in their life, especially when you have kids. You don't just have your life to manage but there's too. Do yourself a favour and save the humility of missing little Suzie's party or that school coffee morning that you said you'd help out on, and get yourself a Family Organiser. Forget going to WH Smith or Paperchase where you will pay though the nose, and head over to Amazon where they have LOADS of them for £1.99. Trust me it'll be the best £2 you will ever spend. There's heaps of calendars too, that would make awesome Stocking Fillers. There's Minecraft, Disney Frozen, Dr Who and MANY MORE!
Here's the ones we have found at £1.99:
Don't be fooled into thinking that these are just calendars, they aren't. Some come with stickers to place on memorable dates like school holidays. Each family organiser has a four of five columns across the month, so that you can write down commitments each person on each day. It makes it easy to see what's happening day-to-day at a glance. I swear by using these, so if you are ultra disorganised then introduce these into your life.