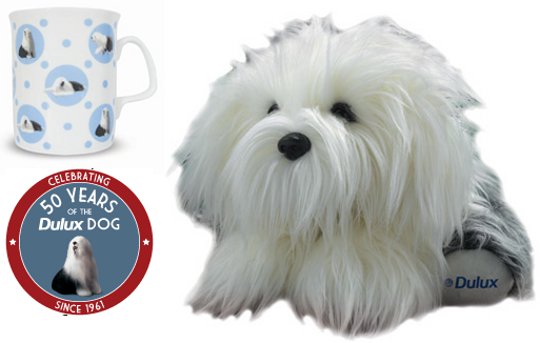 Dulux is a paint, right, and I can never see one of those shaggy Old English Sheepdogs without thinking of Dulux – which is pretty great marketing. I'm sure the man or woman who first sat in an office and said, "hey, why don't we make our mascot a shaggy dog" would be proud.
Dulux is celebrating their 50th anniversary this year, and they've released a range of trinkets that you can buy to celebrate along with them.
They sent us a sampling of their goodies – the Dulux Dog Soft Toy and the Blue Spotted Dulux dog mug – to see what we thought of them.
Well, sort of…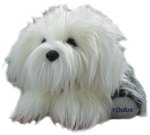 We were sent a gorgeous, cute, soft Dulux dog that my two-year old immediately grabbed, yelled 'woof, woof' at and took off to her favourite spot on the floor to introduce her new pet to the cars in her play garage. The dog we received isn't on the website, though. It seems to be a smaller version of the 35cm cuddly toy that they're selling for £12.99.
It is superbly cute though. It's fur is soft, it's body is cuddly and it comes complete with a leather collar with a plastic clasp. There's a tag on the ear that says the toy conforms to European safety standards, and the word Dulux is embroidered on one of the feet.
At £12.99, I'd say that's really expensive for what's an average sized toy – but the one on the website is much bigger, and probably closer to worth the price.
I know I've said it, but I will again – these are really very cuddly, and very, very cute.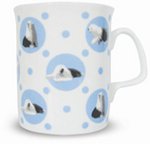 The Blue Spotted Dulux dog mug is totally not my cup of tea, however. I am just not a fan of random mugs in my kitchen and forever seem to be sending boxes of mismatched crockery off to the charity shop. I can honestly just not see why anyone would want to buy a Dulux cup for £5.99 and if anyone gave it to me as a gift, I'd think it a prank and start looking for the real gift in the packaging or the card. Maybe that's just me, but that's my honest opinion.
Objectively speaking , it's not a bad mug. It's fine bone china, and available in blue, green, lilac and pink, and I guess if you had a set of them, and you really liked dogs, or Dulux dogs, then  they'd actually make quite a nice set, rather than just being one odd cup in your kitchen.
The images are the Dulux dog in various poses, produced with lead free glaze in the UK.
The mugs themselves are dishwasher and microwave safe, so at least you never have to have a cold cuppa.  You can buy the whole set rather than individual pieces, for £20.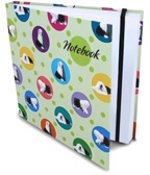 I haven't reviewed the rest of the commemorative items, but I do actually think the Dulux Dog Spotted Notebook (£6.99) is nice-looking. It's a casebound notebook with an elasticated page finder. There are 100 sheets of wood-free white plain paper pages, but in this case, as a notebook, I really love the sheepdog-posing-in-circles thing. It's bright and bold and fun – looking. I can't speak to the quality of it, but it looks sweet to me.
The Good
It's quality stuff. I mean, the products themselves are good quality. I can't see any evidence of anything being cheap and cheerful. As far as being a 50th anniversary commemorative  item, each of them is well made, and Dulux can be proud of their purchasing team.
The Bad
These are the kinds of things I'd expect to see in press packs or as 'giveaway' offers when you buy 2 cans of paint or something.  Apart from the notebook, I just don't know that anyone outside of the building trade is that attached to the paint on their walls. But then, that could just be me. Maybe I'm not sentimental enough.
The Verdict
I really don't know. If it's your thing, you'll love it, and it'll be money well spent. If it's not your thing, you probably wouldn't buy it anyway so no harm done. Does this sound like a terribly inconclusive verdict? Well, it is. My grandmother used to breed Great St Bernards. Perhaps she'd love set of sheepdog  coffee cups.  Maybe I'll give her my review mug and see what she thinks.