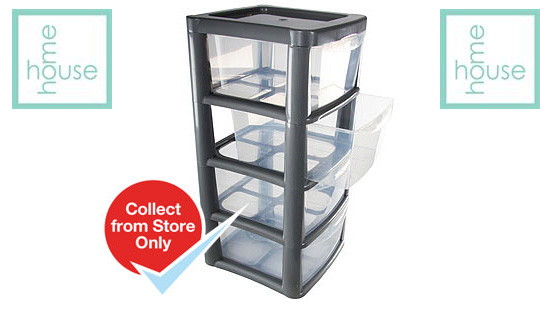 Home Bargains are selling this four-drawer large plastic storage tower for £13.99 instead of £20.
You can never have too much storage and Christmas time brings with it a while host of new toys that all need to be found homes, plastic drawers can help you out!
They can be used in the kids' bedrooms to store all their new toys; in the bathroom for wet toys and/or bathroom bits and pieces; they're dead useful for storing all sorts of utility room junk and other 'stuff' that which accumulates in that room but, for some reason, mustn't be thrown away.
You can also use them under worktops in the kitchen for extra pots and pan storage; in the garage for all the things you keep in the garage rather than them piling up in the corner as usual, like small garden toys, tennis balls, footballs etc.
If you have a very artistic child then these plastic drawers are perfect for keeping pens, pencils, paper, rubbers, paints, paintbrushes and all the other arty-farty paraphernalia all neat and tidy and in one place.
You can collect your order from your local Home Bargains, or you can arrange to have them delivered to your home for a few additional pounds.
Happy more storage!