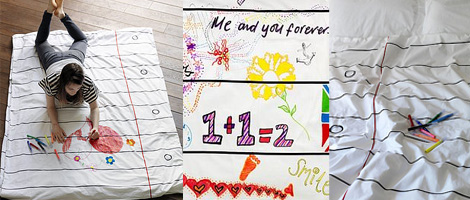 Let's see what you make of this...
A few days ago a Not On The High Street mini catalogue dropped through my door - I'd never heard of them before.
I had a quick flick through it last night and came across the Doodle duvet cover.
It's printed to look like a feint ruled piece of paper with a margain and it comes with eight special wash-out pens (hahahaa I can hear the groans and mutterings of 'Oh NO!' already) so you can doodle on your duvet, wash it and you have a blank piece of paper again!
I reckon this would be genius in a double or king size, you could leave messages for your loved one to read if you went to bed before them:
'Don't snore tonight please!' or 'Ohhh darling, I'd LOVE a cup of tea and breakfast in bed tomorrow morning, how lovely of you to offer'
For teenagers...not too bad I suppose.  I can imagine girls LOVING it and spending hours and hours creating teenage masterpieces with their mates.
OH OH!! You could leave your teenager messages! 
'TIDY YR ROOM!! Thanks, luv mum x' (you have to do the  'yr' and 'luv' bit - it's teenage speak, they might understand the instruction then!).
But for toddlers...? Ooooh I can just imagine the 'fun'.
Hit or Miss on this one? Hit for me if you're older, especially as it's £45.
In the process of writing this I'd talked myself into buying a king-size one; there aren't double or king-sized ones *sigh* I want one now!