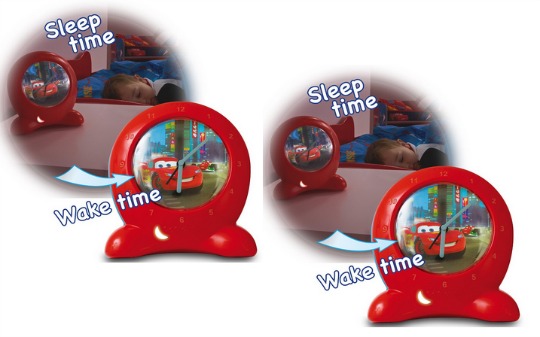 Needing something to keep your little one in bed until a reasonable hour? I have a friend that swears by the Go Glow Clock to ensure her son knows when it's too early to get out of bed. These normally sell for £15+ but Amazon are selling the Disney Cars for just £6.29. It's £19.99 at Toys R Us so this is a bargain.
The Disney Cars Go Glow Clock Bedtime Trainer acts firstly and most obviously as a clock, it is also a routine trainer as well as a night light.
How does it work? You set the clock to the time you think is acceptable for your child to be out of bed in the morning. The picture on the clock varies from a night-time face to a daytime face. This acts as a visual aid for your child and it's ideal for when they are too young to tell the time.
You can get the Disney Cars Go Glow Clock Bedtime Trainer delivered for FREE if you have Amazon Prime. If you don't have Prime then click here*to see how to get it cheaper. If you don't want Prime then delivery is £3.30, which still works out way cheaper than anywhere else.
Thanks to Rebecca on our Facebook Page