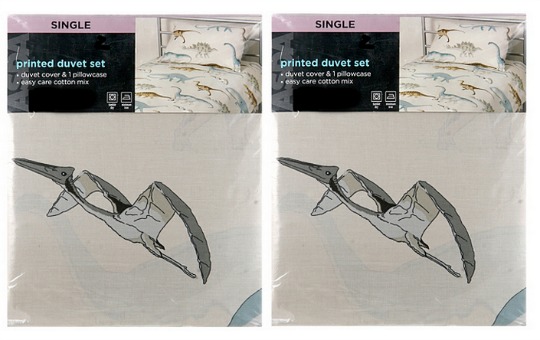 I saw these and just had to share it with you lovely lot on Playpennies. Asda have these Dinosaur single duvet cover sets for only £4.50 just now. These were originally £9 so it's a really good deal.
The thing I like about these is they aren't too babyish. I honestly think a small child would like them, but equally, an older child would too. The colours aren't too garish and the dinosaurs aren't characterised as smiley or friendly.
In this set, you get the usual, one single duvet cover and one matching pillowcase. It's made from machine washable cotton so perfect to wash the heck out of. Which, let's face it you have to when it comes to children's bedding.
Asda Direct also sell Dinosaur pillow cases that would be perfect to match this set for any extra pillows.  These come in pairs and only cost £2.50. See the link above for these. I'd be tempted to grab a few duvet sets at this price as you can never have too many. Especially when you are constantly having to change bedding because your child drools more than a bull mastiff.
You can click and collect from your local Asda store or pay £2.95 if you would prefer to get it delivered to your home.