Dinner Winner Plate £15.15 Delivered @ Amazon Seller: The Gift Oasis Ltd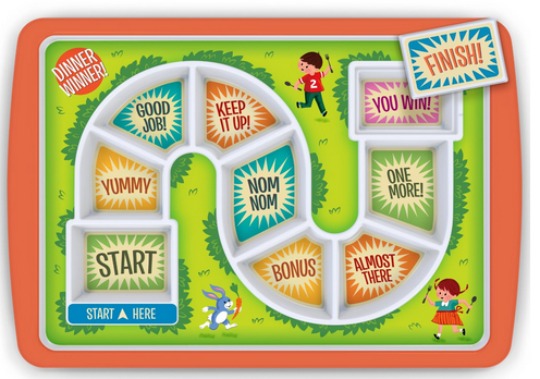 I saw this and instantly went to buy four. Seriously, how frustrating is it when you stand and cook a delicious, nutritious meal for the whole family, for the kids to turn round and protest about eating it? It's drives me crackers. That of course is one of the perils of being a parent. Look at the Dinner Winner Plate. This thing could end the daily struggle of getting the kids to eat their dinner. It's not cheap but at £15.15 (best price found) from Amazon Seller: The Gift Oasis Ltd, it might just save our sanity.
To get the Dinner Winner Plates at £15.15, you need to click the link above and look down the right hand side. Reputable Amazon Seller, The Gift Oasis are also offering FREE delivery on this quirky item too.
The jist of it is that this Melamine Plate is designed with a snake of nine troughs for you to serve food in. There is a start and your little one must work through each stage to get to the finish. It's such a simple but great idea. Whether it will work depends on how stubborn your children are.
It's dishwasher safe and comes in a presentable gift box.