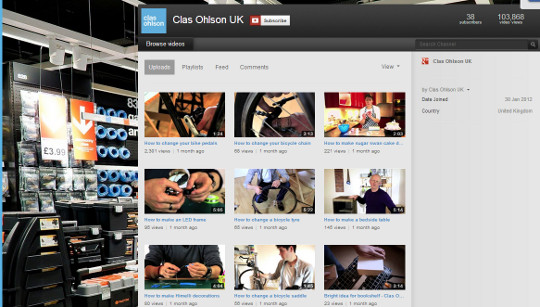 I know you largely opened this post to see how on earth we can be reviewing Youtube videos, right? Don't worry, we won't be getting to your home video of the cat anytime soon. Clas Acts may be hosted on Youtube, but it's a product all in its own right, and I love it. Have you ever gone on Google and typed something like: How to ... ? Well, that's where Clas Acts comes in.
Clas Ohlson, the brand behind Clas Acts,  is a European retail company  with a focus on 'solving every day problems'. A recent report by Professor of Sociology Laurie Taylor in October 2012  has shown that the average UK family could save up to £2,000 a year by learning practical skills instead of calling on tradesmen, so Clas Ohlson scoured the UK and has recruited skilled DIYers, domestic doers and handy homemakers to answer the UK's questions via Facebook and share their knowledge with the nation. They searched in the fields of DIY, cookery, craft and so on, filmed them and uploaded them to Youtube for your free use. 

So what are the videos? Well, there are loads that are particularly applicable to parents, like How to make a dollhouse, How to create LED balloon decorations, How to make marble effect icing or How to make gift boxes out of toilet roll. 
There are others too, like How To Change A Bicycle Saddle, How to change a bicycle chain and How to upcycle furniture with decoupage.
I would say these videos are still pretty 'new' to Youtube as the majority of them have under 100 views, which is a shame as they are really very helpful and very helpful and very professionally done.
Specifically when it comes to cakes, cake decorating and baking, I have often Googled 'how to's' in an effort to find out how to make a specific design or pattern for my daughter's birthday cakes, or other occasion cakes, but I've often found the videos that come up in your average search aren't very good. In fact, one was so bad last year, that the person demonstrating had the camera on their face through the whole thing. They were talking about doing it, and at the end held up what they had made, but didn't actually show a single step on camera. That was rather less than useful, I'd say.
So, that's where these Clas Acts come in really handy. They have been professionally filmed - no three year old holding the camera! - and they have great sound quality. The surroundings aren't distracting from what's happening on the screen. I guess it's kind of like attending a class but in bite sized chunks, when you need it and with the ability to replay the same step over and over till you get it. Then, if you need extra help, you can pop onto their Facebook page for more help. That interaction is very helpful, I think.

The thing is, this isn't a new idea. People have been uploading things to Youtube for a long, long time now. They also don't have the ultimate collection or anything, but have made a good start. However, what they do have is really well done, and I've been sucked into watching more than I intended to, both because the length of them is 'bite-sized' enough to just quickly watch, and because it's really interesting to see how people do things.
I'd definitely say stop by Clas Acts on Youtube and see if you can learn something new today!
The Good
Bite sized chunks
Good filming
Good sound quality
A nice mix of topics, including DIY, baking, crafts for adults and crafts for children
The Bad
The collection is still quite young so hopefully they will add more, but that's not bad, really.
The Verdict
Go to the Youtube channel, watch the videos and learn something. You may even save yourself some money. I'm looking forward to more from them.