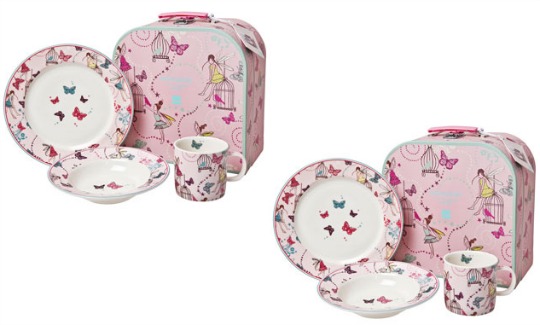 Looking for a birthday present that's a bit different? Well we have just the thing...the Children's Tableware Gift Set from Monsoon. It's an absolute bargain too at just £5. It's original price was £30 so you know that it is worth that sale price. Think of that children's party box. Ignore the one star review as it seem that it was given due to a broken item on delivery, which isn't a reflection on the actual item.
The Children's Tableware Gift Set contains three pieces: a plate, a bowl and a mug. I thought that this would be plastic melamine but it's not! How lovely that for just £5 you are getting three pieces of decorated china crockery. It's fine for the dishwasher, microwave and freezer.
The china pieces of crockery are presented in a lovely matching carry case. This would be a nice Christening present or even for a first birthday present for a little girl. Presents like this are nice as a keepsake.
You can collect the Children's Tableware Gift Set from your nearest Monsoon store or if you would rather have it delivered it costs £3.95