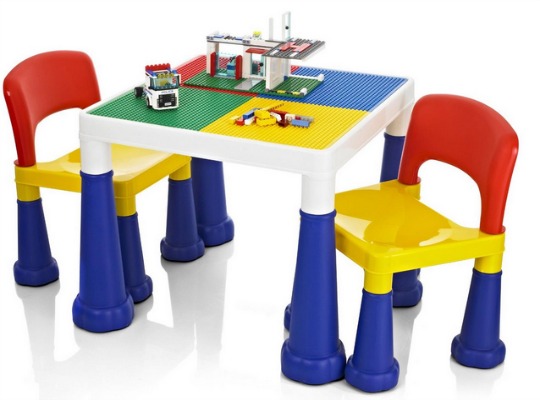 Play tables are always a popular item for birthdays and Christmas but they aren't generally too exciting if we are honest. If it's a water table or one full of sand then kids just love them. This one have a building plate surface that is compatible with LEGO and DUPLO. Finally, somewhere for the kids to build and play with LEGO/DUPLO models. eBay Seller: netpricedirect are selling the Children's LEGO Compatible Table and Chairs Set for just £29.99 with £4.45 for delivery, £34.44 altogether.
The Children's LEGO Compatible Table and Chairs Set comes with two chunky plastic chairs. The whole set is constructed the same and it looks pretty sturdy.
You might think that it's now use for drawing on with that bumpy building plate surface but this table also come with a lid that is smooth. I guess that makes this table pretty versatile.
This table is self-assembly but I would imagine it'll come in thousands of little bits. It'll be the table top and the legs and the same with the chairs.
The table is 45cm in height and 51cm wide. The chairs are 48cm tall and 31cm wide. Ideal for in the corner of a bedroom or even the living room if space allows.