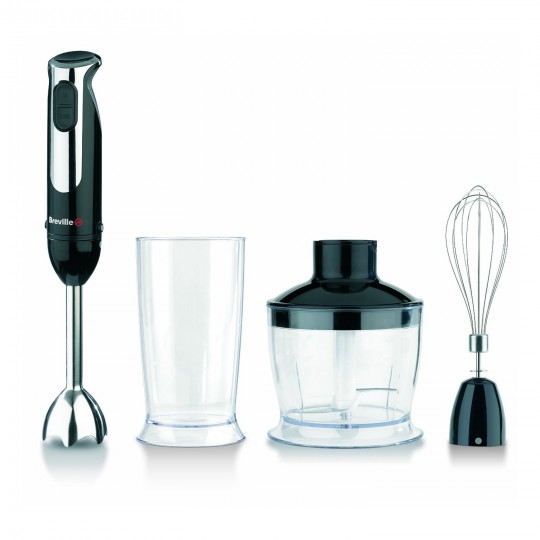 I never know whether 'cheap' blenders, liquidisers and smoothie makers are worth it, in the long run. If it's something you're going to use from time to time, I suspect it will last, but if you're looking for something heavy duty, obviously you'll want to consider spending a bit more than the £24.98 this Breville Black Hand Blender Set is currently on sale for. 
On the up side, a small blender is great for small spaces, so if you want something that's not going to take over your kitchen surfaces, this Breville Black Hand Blender may just be the thing for you. It's also portable, so you can even take it on holiday with you. This type of blending favours foods with a higher water content and so is ideal for fixing soups, sauces, milkshakes and smoothies and tackling softer foods like fruits and vegetables.
The Breville VHB060 is a three-in-one blender set. The blender has a detachable leg which is dishwasher-safe and made from stainless steel. This is less corrosive and more resistant to rusting than other materials and boasts antibacterial properties that keep it hygienic. The stainless steel, two-tip blade is positioned inside the head for safety. By keeping it neatly out of the way this also acts as an anti-splash guard to help minimise unwanted mess.
The main body of the blender  contains the powerful 400 watt (W) motor. There are two speed settings--regular and turbo--so you can change the rate at which the blades turn to give a greater level of control.
The set is completed with the trio of attachments--a 500 millilitre (ml) beaker, a 500 ml chopper bowl with stainless steel blades and safety locking lid, and a stainless steel balloon whisk with plastic collar. The chopper bowl has rubber feet to prevent slippage when in use and the attachments fully dissemble for easy and quick cleaning.