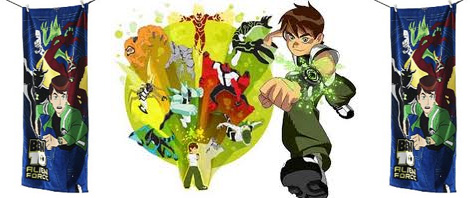 Yes I know we're not going to get any more beach weather until next summer, but this Ben 10 beach towel will be a big hit with any little (or grown up) Ben 10 fan!
Do I need to tell you anything about Ben 10?
It seems I'm in such a small minority of people who really don't know much about it!
Everyone keeps telling me to hook up to the Cartoon Network and watch Ben 10: Alien Force...apparently this is different from the normal Ben 10 *shrugs shoulders*
I'm resisting; I've  managed to get along ok in life, so far, without Ben 10 in it and I reckon that will carry on if I don't become assimilated!
All I know is my youngest is a HUGE fan and, in his opinion, his life would be SO much better if he had this Ben 10 beach towel.
I can hear him now, "It's not just for the beach mum! I could use it for swimming or when I get out of the bath...or...to dry my hands!"
This, now, much coveted Ben 10 towel was £9.50 but has been reduced to £5; it measures 137cms x 70cms, is made from 100% cotton and is machine washable (are there any towels that aren't?) and can be thrown in the tumble dryer too.
Thanks to Loeeza over at HUKD!