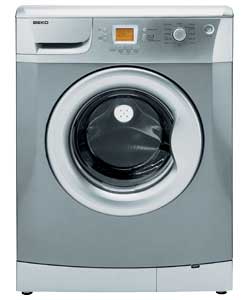 This Beko WME7247 washing machine is currently a rather good price at Argos.
Saturdays have always been washing days in my house.
The deal is: come home from school on Friday afternoon, get changed, strip your beds and bung everything in the wash ready for Saturday morning.
It rarely happens without me having to ask at least three times, but washing always takes place on a Saturday (ironing on Sundays).
Decent washing machines, that do everything we need them to, can cost a FORTUNE and it's only when they blow up that you realise just how much of a godsend they are.
Now, if your washing machine is happily working away then lucky you. But if yours has just given up the ghost then this Beko 7kg capacity washing machine from Argos could just be your knight in shining washing powder!
It has an A+ energy rating, it has a quick 34 minute wash at 30C (I love those quick cycles!), a half load option (love that too) and also a hand wash programme.
It also features a variable spin setting and a child lock too, very handy for clever and inquisitve fingers!
The catalogue price for this Beko washing machine is £299.95 but add WASH50 at the checkout and £50 will be deducted, bringing it down to £258.90 and it has received RAVE reviews too.
It's only available for home delivery (currently seven days and will cost £8.95) and if you have an old dead machine Argos will take it away for you for an additional £7.50.
Thanks to amibees over at HUKD!