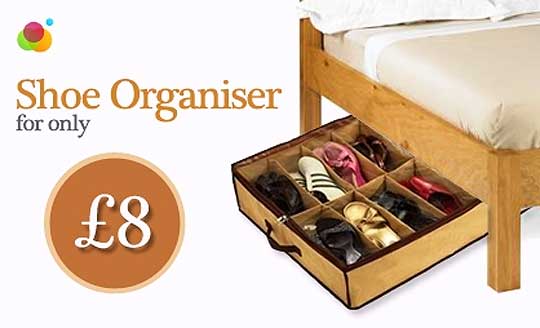 You've got until Wednesday of next week (that's 17 October) to take advantage of this under bed shoe orgniser offer: one will cost you £8, instead of £34, and two will cost you just £13.
I have enough pairs of shoes to make Imelda Marcos jealous, so these under bed shoe organisers are JUST what I need!  Each one can accommodate 12 pairs of shoes, of any shape, up to a size 10 (sorry for you, if you have feet bigger than that!) and features a plastic zip cover to keep the insane amount of dust off your prized Manolos and 'Jimmy's'  that accumulates under beds.
HOWEVER, it occurred to me that these under bed shoe organisers could be used to store other things too - small kids toys, for example; you know, bits and pieces and little things that don't have a home of their own and just fall to the bottom of a big toy box, never to see the light of day unless the entire contents are tipped out (the sound of that happening is enough to make parental blood run cold!).
If you're a travelling hairdresser with umpteen million different sized rollers etc, then you could separate them into the different compartments and transport them in one of these - it's just an idea - I can't read anything in the small print that states 'shoes only; NOTHING else allowed!'
So there you go - organise your shoes, organise kids toys, organise your hair rollers or anything else that takes your fancy; marvellous.
Happy organising whatever your heart desires, and fits into, the under bed shoe organiser!