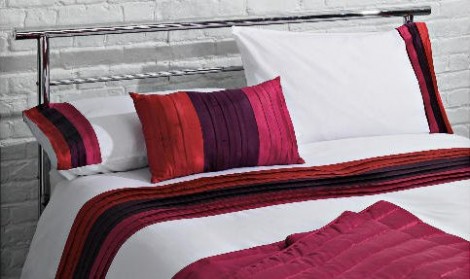 I have a real weakness for duvet sets and Tesco have some GREAT 'bed in a bag' deals on at the moment, but only whilst stocks last!
I have a king size bed.
Having had a king size bed I'd never go back to a standard size double for love nor money.  The thing is, king size bedding COSTS a fair bit of money...unless you seize the day and grab bedding deals like these Tesco 'bed in a bag' ones.
This Raspberry Stripe king size bed in a bag set it just £10.13!  The original price isn't listed on the Tesco site BUT I know for a fact that it was more than £30, because I looked at it in-store a g e s ago when it was full price.
There's also an AQUA version that's rather nice too.
There are double versions of these bed in a bag sets but they're different prices:
The double size RASPBERRY set is £8.63 but the AQUA double is £17.25 ( reduced from £34.50 - which will give you some idea as to the original full-price for the king size).
All the bed in a bag sets come with a duvet cover, two pillowcases, a cushion cover and a bed runner; serious bedding bargains in my opinion!
Thanks to mikinit at HUKD