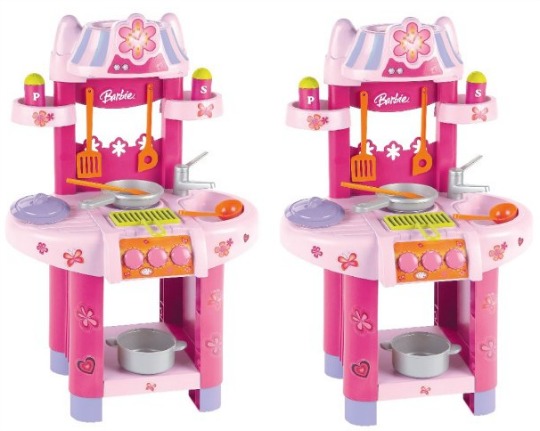 This is an official licensed Barbie kitchen and comes with accessories including pot, pan and salt and pepper shaker and is 75cm tall. I'm not sure these toys ever seem worth the R.R.P., which is £39 on this according to Amazon,  for me personally and as is often the case, stick on a brand like "Barbie" and that R.R.P. just increases even more. I do think £15.93, especially including delivery, is a good price for this though.
Although these types of kitchens say suitable for aged 3+, lots of parents I know tend to buy them for over 2's. Indeed this reviewer did just that and commented:-
Bought this for my two year old niece as shes into everything that mummy does.
It does state for ages 3+ but it will be played with under strict supervision.
Wonderfully bright and sturdy too.
She will get a lot of play out of it.
Very pleased.
If your little one loves role playing, this Barbie kitchen might just be the ideal present for them. If you're thinking about investing in a playhouse for the garden this summer, these types of kitchens can be great for those. Pretty hard wearing, not overly large and not too expensive either.