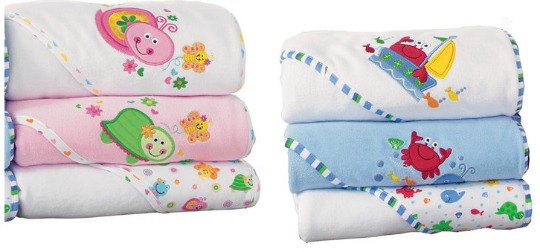 One of my favourite things about bathing my baby is getting to wrap him up all cosy in a fluffy, hooded towel. There's something so comforting about nestling him in whilst he smells so fresh and clean. Unfortunately, that doesn't last long. It's not unusual to need another fresh towel as my son tends to get too excited without his nappy on!
It's fair to say that you can never have too many hooded towels when the children are little. These come in a pack of 3 and are available in blue or pink. Having an original selling price of £14.99 these are a great value buy at just £4.96.
Each towel has three different designs within each pack. With the blue, it's a seaside theme. The pink is butterflies, snails and other smiley creatures. They are very colourful and fun for bathtime frolics.
Free Click and Collect or £4.95 delivered to your front door.