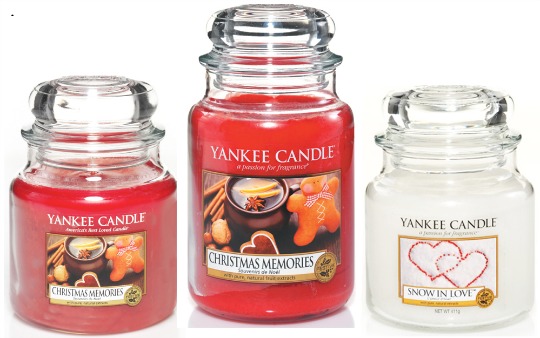 How do you like the sound of "Christmas Memories" or "Snow In Love"? These are the Fragrances Of The Month on the official Yankee Candle website, and they have 25% Off at the moment, and for TODAY ONLY there is FREE DELIVERY with any purchase, no code required. Sounds good to me!
What the website says about the Christmas Memories fragrance is that you can "relive childhood Christmases with this evocative mix of spices and sweets." Reviewers say it smells like cinnamon, gingerbread and mulled wine - yum.  Apparently Snow In Love is supposed to "embrace the romanticism of the season with comforting woods and powder freshness".
If those don't grab you then the free delivery is valid on ANY PURCHASE today, so it's very handy for picking up a few small gifts for friends and relatives where delivery charges would normally make the prices less attractive.
I'm tempted by by the Gingerbread fragrance, which is back for a limited time because of so many requests for it - anything that smells like Christmas food is a hit with me.
The Yankee Candle website is filled with goodies, with jar candles, votives, tea lights (some of which are reduced), wax tarts, and lots of accessories and gifts, so there's bound to be something to tempt you!
Thanks to [email protected] HUKD.