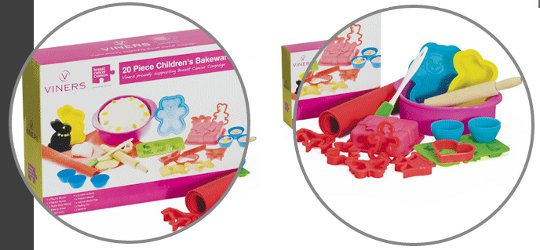 There's a set of 20 pieces of kids bakeware at Viners on sale for £15 instead of £25. 5% of the sale of this item will also be donated to the Breast Cancer Campaign.
I've only recently discovered silicone bakeware and was super weary putting it in the oven, but have been totally converted. We have a pack of 'Dora the Explorer' cupcake moulds and they are so easy to use and super easy to clean, so I'm quite keen on this kit too with it's wider range of silicone bakeware.
Included in this set are: 6x 6cm silicone muffin cups, an 18cm silicone round cake mould, a giftbox shaped mould, an animal shaped mould tray, a rabbit shaped mould, a teddy bear shaped mould, a silicone baking sheet, 6 cookie cutters, an 18cm plastic spatula with a silicone end and a 24cm wooden rolling pin.
I'm sure this would make for many hours of baking fun.
Thanks to Syzable at HUKD