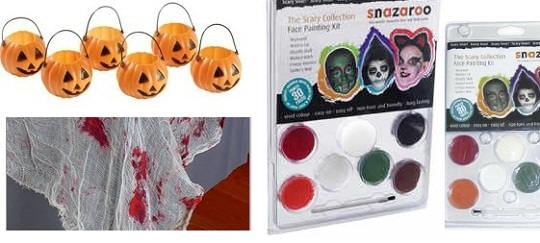 Writing this particular review took me on a trip down memory lane. Woolworths was always the first store we headed to at Halloween when my step children were younger. We'd pick up cobweb spray (for my step son's costume) and accessories like pitchforks and witch's hats. And bags of sweets to hand out.
That particular shop, at the top of our road, is now gone. Of course. My youngest son called it the 'present shop', and although I'd have thought he was too young to remember Woolworths, he still mourns its passing.
But the retail chain lives on, in cyberspace at least. And it is still selling all that stuff that you really need. Here we received a number of items with a Halloween theme from Woolworths, and I gave them to mum of one, Tracy, to test for us. Here's what she thought.
Pumpkin Candy Basket
Now a plastic pumpkin says Halloween to me like nothing else. Just looking at the pictures of these Pumpkin Candy Baskets (£2.50 for a pack of six) brings back so many memories of past Halloweens.
But what are these ones like? And more importantly, what are they for? There's little on the website to give you a clue.
Tracy was likewise confused. "When I first saw these I thought why? Why do I have a bag full of plastic pumpkins? They won't work as tea light holders, they won't work as hats or scary porch lights, so what is the point?"
Closer examination revealed to Tracy that these are in fact meant to be "cute little candy holders, and fairly robust ones at that."
Even so, unless you are planning a Halloween party with lots of tots coming round for candy-filled fun, Tracy was at a bit of a loss as to why anyone would buy these.  "You would spend zillions if you planned on handing these out at the door and they honestly don't hold a lot of candy. They can hold 2-3 of the small little mini-bars you get in bulk but one mars bar? forget it. They tip over and irritate."
However, the pumpkins are cute, and well made, and the combination inspired Tracy. She filled hers with raisins and nuts during her 'practice Halloween party'.  And handed them out to the little guests as they went home. The children had fun rolling them at each other and filling with their own toys/sweets and nuts.
"They won't take a lot of candy but that's a good point. You aren't going to make other parents irked and kill 1000s of teeth here. But you are giving them a cute gift that costs as little as 41p per pumpkin that they will thoroughly enjoy playing with when they get home." says Tracy.
Pluses: Cheap, cute, awesome decor and gift bags and can be used as just plain decorations. Brilliant for a party or snack pots.
Minuses: Plastic landfill tat! Too small to take a lot of candy and can't take any big fruit.
Overall verdict: 9/10 for fun, imaginative uses, reusability, and Halloween entertainment and decorative fun.
Bloody Gauze Drape
Now this is utterly disgusting. The Bloody Gauze Drape doesn't seem to be up on the website yet, but the Bloody Gauze Tablecoth (£3.99) is. Utterly gruesome. Now I think this is a better buy for decoration myself than plastic pumpkins.
The drape is 15 feet long, and impressed Tracy. "Who doesn't LOVE the idea of 4.5metres of fake bloody gauze dripping across the house on Halloween?" As well as decoration she thought it would also work well for a fancy dress outfit such as a rather fresh Egyptian mummy or a 'bloody' nurse.
One downside that Tracy found was that the packaging says the gauze is intended for one use only. It isn't biodegradeable, and isn't intended for eating, and Tracy thought it was really robust. So why only use it once? "I would use it over and over again, unless I cut it to shreds using it to add to costumes or something. I mean, the blood might fade but I am not sure by how much. This emphasis all over the packaging confuses me."
You have to keep it away from heat sources so Tracy draped hers up and down the stairs.
Tracy thought it was a little bit expensive for pure decor if it is around the same price as the tablecoth, especially if you follow instructions and don't re-use it. She has every intention of doing so though, as long as it holds together!
Pluses: creepy but  fun; looks like real blood; really long and creates a heck of a mood
Minuses: packaging is confusing
Overall verdict: "It looks ace. I am refusing to take it down."
Snazaroo The Scary Collection Face Painting Kit
The Snazaroo The Scary Collection face painting kit (£3.50) contains enough paint for 30 full faces. The pack is resealable, and the paints apparently keep for 18 months after opening. You get 6 colours (green, black, red, orange, bloody brown and white), one sponge and one brush.
The Snazaroo website has free step by step guides for designs that you can download.
Tracy thought this was a quite the simple, cheap and fun face painting kit. "I am rubbish at creative face painting so having an online guide is pretty awesome."
She tested this kit out on herself, using it for a zombie dress-up night when she went for a showing of Dawn of the Dead (the original George Romero film) at a shopping centre. "I was dead Thelma from Scooby Doo complete with white face, green slime and fake blood. I used the white, green and black base colours from this kit to create my look."
Tracy found that the white paint worked really well. Especially compared to the zombie paint she had bought separately from elswhere. "That white just sort of left a whitish smear, this white makes your skin look really WHITE. The black was also superior. The black paint in the zombie kit was poor and didn't work very well whereas this was solid and thick. I was impressed as I spent far more on the zombie kit than this costs."
The paints are hypo allergenic, non toxic and designed especially for sensitive kiddy skins. It was just fine on Tracy's sensitive skin, and washed off really well. Again, both fails for the Zombie paint kit.
Pluses: good quality; gentle on skin; cheap; work well; downloadable step by step instructions a huge plus ideas included in booklet; lasts for ages
Minuses: the way the package reseals isn't great, you'll need a bag too; poor quality sponge
Overall: a really good buy
And finally...
Woolworths has a whole Halloween shop on the site, all of it is priced competitively next to other high street chains. The downside is having to pay delivery charge, and that may definitely put some people off.