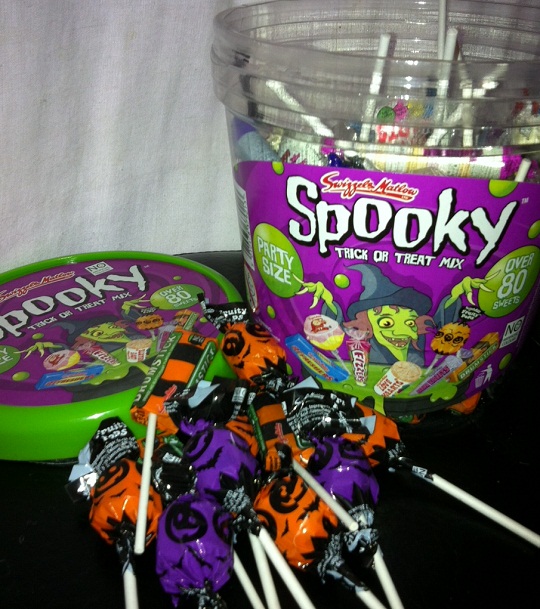 Tomorrow, just in case you've not noticed, is Halloween. Although people talk about 'trick or treating' as a recent thing, in fact I was doing this with my older two 15 years ago. It is now the turn of my 7 year old son. And what I love is that we get lots of neighbourhood kids coming to our house too.
Normally I angst a lot over what to get in the way of sweets. But this year Swizzles Matlow solved all my problems by bringing out the Spooky Trick or Treat Mix bucket for just £4. This is only available in Tesco.
This is a win for me on two scores. First you get 80 pieces of candy for the money so should be more than enough to hand out (except that my husband gets carried away!). Second, they're in a bucket so I can just keep this by the door instead of having to find a container to put all the sweets in.
Also in the bucket are several special edition sweets just for Halloween. These are the orange and black Halloween drumsticks,  purple and black lollipops, and the orange and black Halloween lollipop.
And then there's also all the favourites too. Mini packs of Parma Violets (weird name but awesome sweet), Love Hearts, Refreshers, Fizzers and sherbert lollies. And yes, I have already started tucking in. And yes again, this is after I had already scoffed another bag of Halloween sweeties.
I tested these ones out at my son's school. Basically this involved the teacher standing there at the end of the school day shouting Happy Halloween and the kids all getting to grab a handful on their way out the door.
Judging by their reactions I would have to say that this was one of the best products ever in the history of reviewing on PlayPennies! Ah, the sublime pleasure of being 7 years old.