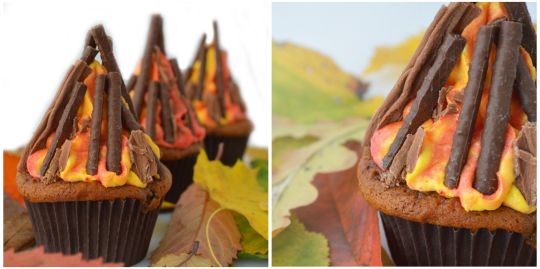 I was looking for deals onThe Craft Company website when I stumbled onto this wonderful idea for Sticky Toffee Bonfire Muffins! The recipe and instructions they provide are below, but you can make your own version without too much bother.
They have used a ginger cake mix for the muffins, then red and orange coloured buttercream for the flames, and Matchmakers and a Cadbury's Flake for the wood in the bonfire! I think it looks really effective, even if the thought of that much buttercream is making my teeth itch.
Matchmakers are on offer at £1 a pack at Tesco*, Asda* and Morrisons* right now too!
Fancy making them? Here's the recipe from The Craft Company:
For approx 15 muffins you will need:
1 x Pack of Wright's Ginger Cake Mix
150g x Orange Marmalade
100g x Dates
1 x Eating Apple (peeled, cored and sliced)
Make up cake mix following simple instructions on packet. Mix in marmalade, chopped dates and apple.
Place mixture into baking cases (2218), and bake at 175C (160C fan) for approx 30 mins.
Just make up a quantity of buttercream, colour half red  and half yellow.
Using a large piping bag fitted with a Savoy nozzle.
Place the yellow buttercream down one side of the bag, and the red down the other side.
Pipe 'flames' onto each muffin, finishing in a peak.
Complete the 'bonfire' with orange Matchmakers and a chopped Flake bar.