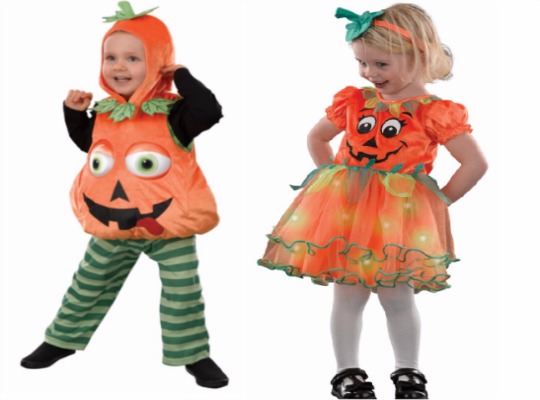 Halloween can be a bit overshadowed by the hype of Christmas. Shops dedicate most of their floorspace to the festive stock rather than the Halloween. However, I have noticed that Asda really do pull out the stops with their Halloween selection. Maybe that's because American company Walmart own them. Whatever the reason, we are loving these Light Up Pumpkin and Pumpkin Witch Costumes from Asda George. They are only £8 each too.
The Light Up Pumpkin/Pumpkin Witch Costumes are battery operated and twinkle as your little one wears them. The Pumpkin costume has a hood whereas the Pumpkin Witch one comes with an adorable stalk hairband.
They come in two sizes only and are aimed at younger children: 1-2 years and 3-4 years old.
Asda have upped their safety measures where matters of Fancy Dress Outfits are concerned and they now test them to nightwear standards. Having said that, these are not to wear as sleepwear.
You can Click and Collect the Light Up Pumpkin/Pumpkin Witch Costumes for FREE from an Asda store near you or pay £3 to have them delivered to your front door.