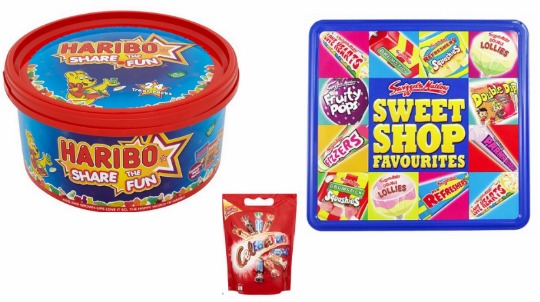 It's gotten to that time of year where the leaves fall from the trees, the weather gets wet and the kids come a knocking for sweeties. Halloween is nearly upon us! Make sure you have plenty in for those Trick or Treaters and get on over to your local Morrisons (or online). From this WEDNESDAY, you can get ANY two of these: Haribo Share the fun (720g), Swizzels Matlow Sweet Shop Favourites (750g) or Celebrations (480g). What a bargain! These sell for £3.96-£4.97 each normally so you could save yourself a maximum of £4.94!
Remember, this fantastic Halloween offer does not start until this Wednesday!
In the Haribo Share the Fun Tub, I am sure it's miniature packets rather than a mass of loose Starmix. The Swizzels Matlow Sweet Shop Mix contains those classics like Parma Violets and Drumstick Lollies. I am sure I don't need to tell you about Celebrations. They seem to be a firm favourite come Christmas time. Those Galaxy Caramels... mmm!
I will be taking this opportunity to stock up for Christmas, never mind Halloween. Although, having said that I can't help myself when it comes to sweets and I have learnt in the past that if I buy them too early I eat them and have to replenish about three times over.
Thanks Chanchi32 @ HUKD